Thursday, 19 September 2019
Alpha Bully
Genre: New Adult Paranormal Romance
SHE RUINED EVERYTHING... I WILL MAKE HER PAY.
Her mom robbed my dad of his job. Destroyed his life.Now I have to look at her every day.
The girl next door. A
human
. A hot little nerd.
She doesn't belong here
—
not in Wolf Ridge,not at our high school, definitely not in my life.
She doesn't know what I am.Which makes it all the easier to take revenge.
I will bring her to her knees. Pierce her heart.Make her bleed. For me.All for me.
NOTE: This New Adult book features steamy scenes with characters over eighteen and is for an audience that is also over eighteen.
Goodreads * Amazon
I think about Pink. What I know about her now. The scent of her tears. The taste of her skin. The way her ass feels in my hands.
She gave me her vulnerability yesterday.
Robbed me of mine.
I want to still hate her. Especially after what she witnessed in front of my house.
But I don't.
We're in this together now. We've shared each other's nightmares.
And when I took from her, she gave.
Let me kiss those swollen lips. Let me dry fuck her against a wall.
I woke up this morning thinking I needed space. Get this human off my mind before she gets even further under my skin.
I planned on pretending she didn't exist when I saw her today. Reasoned she probably needed the space, too.
But it didn't last. The minute I saw her, I tumbled back to where we were last night, standing between our houses under the moon.
And now I'm already itchy for more.
I need to finish this thing I started with her.
I can't stop until I fully own Bailey Sanchez. Until she's given me every secret, every lie, every tear. I crave the moment I take everything from her.
Crave it like my next breath.
Freebie alert!
Alpha's Bane, the book that inspired this spin off series
will be free Set 4th– 8th!!
USA TODAY BESTSELLING AUTHOR RENEE ROSE loves a dominant, dirty-talking alpha hero! She's sold over a half million copies of steamy romance with varying levels of kink. Her books have been featured in USA Today's Happily Ever After and Popsugar. Named Eroticon USA's Next Top Erotic Author in 2013, she has also won Spunky and Sassy's Favorite Sci-Fi and Anthology author, The Romance Reviews Best Historical Romance, and Spanking Romance Reviews' Best Sci-fi, Paranormal, Historical, Erotic, Ageplay and favorite couple and author. She's hit the USA Today list five times with various anthologies
Follow the tour HERE for exclusive excerpts, guest posts and a giveaway!
Wednesday, 18 September 2019
The Legend Series Box Set
Genre: Paranormal Romance
A witch and a wolf imprint, what could possibly go wrong??
Celina
Celina is faced with the one choice she never wanted to make between her mate and her child how would she choose?
Red Eclipse
Alia's ready to vanish until a werewolf claiming to be her mate emerges and changes everything…
Blood Moon
Maria knows nothing of the magical blood flowing through her veins… when she imprints with the alpha, everything starts changing.
Summer Solstice
New beginnings aren't supposed to start with werewolf imprint…now Carmen must choose, her wolf mate or her old way of life and time isn't on her side.
Angie's New Moon
Angie desires a life with a mate so she pushes down her fear and travels… but things she feared are coming true and she can't stop what's coming.
Solar Eclipse
No one believes Walter when he says, danger is coming, sticky spells and imprinting with Amethyst could prove him right or destroy the wolfpack coven.
Hunter's Moon
Finding her mate should be the easiest part of Luna's witchy life but he's been raised to hate witches, will he abandon her like her parents or stay with her till death?
Jina
Tragedy and lies have been Jina's whole existence but now she needs her second chance with her werewolf mate, she'll find it or die trying.
Final Eclipse
Love is the last thing on Samara's mind, as a hunter of supernatural beings she needs to stay focused, but Devin calls to her in a deep level that puts both of their lives on the line.
Fall in love with the Legend Series wolves and witches today.
Grab all 9 books for under $1 a book!
Snippet- Book1
"You must be a witch because your ass is bewitching me bad." The male's voice broke into Celina's thoughts as she was walking back to her sister and friend. The bar was crowded for a Monday but that had a lot to do with the summer month of July. Everyone was trying to party as much as they could before the cold weather returned.
"That was awful." Celina chuckled as she turned to the male trying to pick her up. He would have no clue she was a witch unless he was a wolf. Her breath stopped in her lungs as she took in his sharp features, stubble dusted jaw, and dark hair.
"It was. Sorry, I normally have a good wing man but he had to go back home." He shrugged.
"Why wouldn't he come out on a night like this?" The spring air held a crisp side to it from all the rain in the last few days.
"He had responsibilities to take care of." He pushed his fingers through his dark brown hair.
"I see. Well, wolf, are you going to touch me or keep staring like an idiot?" Celina rose an eyebrow.
"What's your name?" His eyes captured her attention, making her body tingle.
McKayla loves to write books about sexy werewolves.
Now a USA Today Bestselling Author!
She's a stay at home mom of two in the state of Wyoming. Born in California, she misses the hot weather all of the time. Her goal- to write as many sexy books as possible. However, being a mom of two little ones can take time but she is pushing to finish her work to get more books out for her lovely fans.
Ever since she was little she wanted to be a writer but doubters said that it would be impossible to make money at it. She is pushing herself hard to show them they are wrong.
She would like to remind everyone to review what you read, it's important!
Follow the tour HERE for exclusive content and a giveaway!
Publisher: Next Chapter Pub
In a kingdom in turmoil, people only care for riches and power. As a war breaks out between countries, a godly power is awakening.
Two boys train at the Academy to become Knights of Valor. Best friends, one is filled with light while the other leans towards darkness.
They both have the power to change the world - or destroy it - in their battle for what they believe is right.
This was one of my favorite scenes to write. Began the book off with a bang.
Alistair pulled off his helmet, his long blonde hair fell down his back. His blue eyes were filled with rage, aimed at Ballard. "If you do not move out of my way, I will be forced to move you," Alistair hissed, this time his hand on the hilt of his sword.
Ballard slyly grinned, "So you would be willing to do battle within these walls?"
"If it means getting to see the King, then yes," Alistair replied, standing tall and unwavering.
Ballard unsheathed his blade, "If you refuse to back down, then have at thee." His determination was just as unwavering as Alistair's.
Alistair felt as though his hand had been forced, and he too unsheathed his blade. The two men were now set to do battle. Ballard was the first to strike with his blade, but Alistair parried the attack, "Not bad, Chamberlain. But now it is my turn," he said, then lunged at Ballard.
Ballard knocked the blade away without even trying, "Not bad yourself Knight, but you will have to do better than that if you want to best me," he sheepishly grinned.
The sound of steel clashing against steel could be heard all throughout the castle as the two men fought each other. Hearing the sounds echoing through out must have drawn the ire of King Edward, for he stormed out of the throne room, and unbeknownst to the two men he used his blade "Kings Defender" to knock Alistair and Ballard's swords from their hands, sending them both to the floor without trouble. "What is the meaning of this? Fighting inside my castle walls is forbidden."
The King was infuriated with the both of them. "Tell me. Why would my first Knight and most trusted adviser be in my halls fighting like two fools," he shouted at them both. "I want answers, or so help me I will have both of you locked up in the dungeon for months." Instead of answering King Edward. Ballard made a big mistake by reaching for his sword and King Edward took notice by stepping on the blade, keeping the sword just out of reach, "Reach for your blade one more time Chamberlain, trusted or not I will cut off your hand," the King yelled. "Now which of you are going to give me the answer I seek?"
Alistair on one knee placed his arm across his chest and bowed before he spoke, "Your majesty. I have urgent news for you, but before I could deliver. The Chamberlain here refused to let me have an audience, and this is urgent and I did what I felt was right. Even if it meant fighting inside these walls. I do apologize, I should have thought this through."
Edward then looked over at Ballard, "Is this true, Chamberlain?"
"It is my Lord," Ballard answered.
King Edward's anger was solely upon his Chamberlain now, "Why would you stop my First Knight from coming to see me? You know it is important whenever he rushes in like this."
"My Lord, you've been ill lately and do not need the stress. I was only thinking of you your majesty," explained Ballard
"You had no right," the King responded. "As long as I am the King of Drasal, and have the aid of my blade, I refuse to be treated like an old frail man. I shall always be here for my knights and my people. Get out of my sight, Ballard!"
"But your majesty-" the Chamberlain tried to speak but the King would have none of it.
"I said to get out of my sight," King Edward shouted again.
The Chamberlain stood up and asked if he could have his sword back, of course, the King was not a heartless man and allowed him to take back his blade. But Ballard did not go far, instead, he hid out of sight and listened in on what King Edward and Alistair had to say to one another.
"Go on Lord Alistair, tell of this news you speak of," the King said, now in a much calmer state, but still as serious as ever.
Alistair sheathed his sword and picked up his helmet. "The Dark Knights have returned and are on the move, your majesty."
Edward's face had now changed to a look of despair, "What? The Dark Knights have returned? You must be mistaken, Knight. That evil was laid to rest a lifetime ago."
"Yes, I remember my Lord. I was just a kid when you vanquished that evil with the King's Defender, and a handful of knights to aid you. But believe in my words, I have seen them with my own eyes. They have returned and are not far from here, my Lord," said Alistair.
King Edward held tightly onto the hilt of his blade, "If that is the case, then I shall ride out with you and vanquish that evil once more."
"King Edward, you musn't. You are ill! And who knows what could happen out there. Your people need you now more than ever. If you would, please allow me to take some more men and go out to scout, and see what they are up to that is. At least allow me that before you get involved, my King. Please. I beg of you," Alistair pleaded.
Edward was reluctant but agreed to do as Alistair had wished, "Okay, Alistair. I will do as you wish and allow you to take a few extra men out with you, under one condition."
"Of course." He bowed. "Name your condition."
"You take only a few men, and some from the Academy as well. And under no circumstances do you engage the Dark Knights. Understood," King Edward explained.
"I understand your majesty. I shall do as you ask," replied Alistair.
"Then go now Knight Of Valor, and assemble your team. I shall be awaiting your return, may the gods watch over you," King Edward said.
Alistair crossed his arm over his chest and bowed to the King, "I shall take my leave now, your majesty. And thank you for placing your trust in me once more."
King Edward stood there for a moment, mumbling a few words under his breath before turning and walking back into the throne room. However, there lurking in the shadows was the King's Chamberlain, and he heard every word that was said. "So the Dark Knights have returned from the ashes, that must mean "the dark powers" are up for grabs again. And all the mythical blades powers must have been resurrected as well. Which would explain why the King took us down so easily while being so frail.
"This could be good for me," Ballard whispered, before disappearing back into the shadows.
About the Author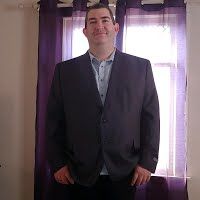 I am the author of Albert: Killer In The Woods and many more. I love to write horror novels and short stories as well. I live in Powell Wyoming with my fiancee and two kids.
Publisher: Peacock Proud Press
Every day you're driven nuts by the people around you making common sense errors and irrational decisions. Imagine what life would look like if you didn't have to waste time and energy dealing with stubborn, clueless, argumentative, defensive, or apathetic coworkers! Thank goodness Eric Bailey translates decades of brain science research into every-day language, helping you break through common communication barriers that will improve every relationship in your life. Whether you work in the executive suite or on the front-line, this book will teach you how to cure the stupidity all around you.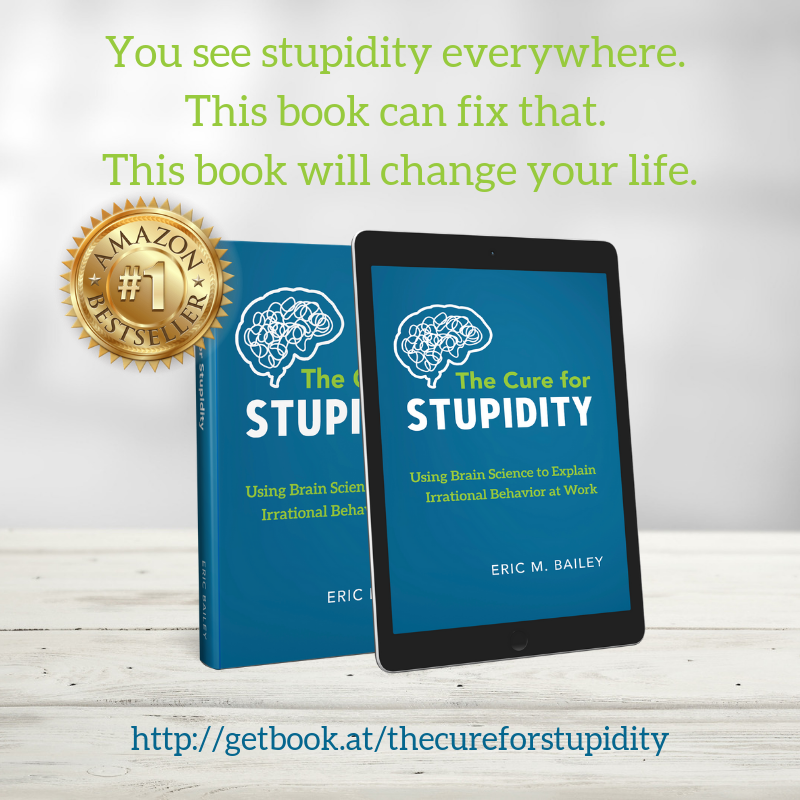 About the Author
Eric M. Bailey is the President of Bailey Strategic Innovation Group, one of the fastest-growing communication consulting firms in the United States. Eric has a diverse set of experiences that includes helping an NFL player pet a rhinoceros, doing barrel rolls in an F-16, and chatting with LL Cool J on the campus of Harvard University.
Eric's unique style blends fact and emotion and finds ways to appeal to analytical thinkers, emotional feelers, and everyone in between. Eric has been featured on Huffington Post, Forbes, the Like a Real Boss Podcast and has helped leaders and teams across North America see common problems from new and different perspectives. Eric works with Google Inc., the US Air Force, Los Angeles County, Phoenix PD and many more.
Eric holds a Master's Degree in Leadership and Organizational Development from Saint Louis University and is a lifetime learner of human and organizational behavior. When not working or researching, you can find Eric and his wife, Jamie racing on their road bikes, being cheered on by their three children.
a Rafflecopter giveaway