Thursday, 19 September 2019
Alpha Bully
Genre: New Adult Paranormal Romance
SHE RUINED EVERYTHING... I WILL MAKE HER PAY.
Her mom robbed my dad of his job. Destroyed his life.Now I have to look at her every day.
The girl next door. A
human
. A hot little nerd.
She doesn't belong here
—
not in Wolf Ridge,not at our high school, definitely not in my life.
She doesn't know what I am.Which makes it all the easier to take revenge.
I will bring her to her knees. Pierce her heart.Make her bleed. For me.All for me.
NOTE: This New Adult book features steamy scenes with characters over eighteen and is for an audience that is also over eighteen.
Goodreads * Amazon
I think about Pink. What I know about her now. The scent of her tears. The taste of her skin. The way her ass feels in my hands.
She gave me her vulnerability yesterday.
Robbed me of mine.
I want to still hate her. Especially after what she witnessed in front of my house.
But I don't.
We're in this together now. We've shared each other's nightmares.
And when I took from her, she gave.
Let me kiss those swollen lips. Let me dry fuck her against a wall.
I woke up this morning thinking I needed space. Get this human off my mind before she gets even further under my skin.
I planned on pretending she didn't exist when I saw her today. Reasoned she probably needed the space, too.
But it didn't last. The minute I saw her, I tumbled back to where we were last night, standing between our houses under the moon.
And now I'm already itchy for more.
I need to finish this thing I started with her.
I can't stop until I fully own Bailey Sanchez. Until she's given me every secret, every lie, every tear. I crave the moment I take everything from her.
Crave it like my next breath.
Freebie alert!
Alpha's Bane, the book that inspired this spin off series
will be free Set 4th– 8th!!
USA TODAY BESTSELLING AUTHOR RENEE ROSE loves a dominant, dirty-talking alpha hero! She's sold over a half million copies of steamy romance with varying levels of kink. Her books have been featured in USA Today's Happily Ever After and Popsugar. Named Eroticon USA's Next Top Erotic Author in 2013, she has also won Spunky and Sassy's Favorite Sci-Fi and Anthology author, The Romance Reviews Best Historical Romance, and Spanking Romance Reviews' Best Sci-fi, Paranormal, Historical, Erotic, Ageplay and favorite couple and author. She's hit the USA Today list five times with various anthologies
Follow the tour HERE for exclusive excerpts, guest posts and a giveaway!
Wednesday, 18 September 2019
The Legend Series Box Set
Genre: Paranormal Romance
A witch and a wolf imprint, what could possibly go wrong??
Celina
Celina is faced with the one choice she never wanted to make between her mate and her child how would she choose?
Red Eclipse
Alia's ready to vanish until a werewolf claiming to be her mate emerges and changes everything…
Blood Moon
Maria knows nothing of the magical blood flowing through her veins… when she imprints with the alpha, everything starts changing.
Summer Solstice
New beginnings aren't supposed to start with werewolf imprint…now Carmen must choose, her wolf mate or her old way of life and time isn't on her side.
Angie's New Moon
Angie desires a life with a mate so she pushes down her fear and travels… but things she feared are coming true and she can't stop what's coming.
Solar Eclipse
No one believes Walter when he says, danger is coming, sticky spells and imprinting with Amethyst could prove him right or destroy the wolfpack coven.
Hunter's Moon
Finding her mate should be the easiest part of Luna's witchy life but he's been raised to hate witches, will he abandon her like her parents or stay with her till death?
Jina
Tragedy and lies have been Jina's whole existence but now she needs her second chance with her werewolf mate, she'll find it or die trying.
Final Eclipse
Love is the last thing on Samara's mind, as a hunter of supernatural beings she needs to stay focused, but Devin calls to her in a deep level that puts both of their lives on the line.
Fall in love with the Legend Series wolves and witches today.
Grab all 9 books for under $1 a book!
Snippet- Book1
"You must be a witch because your ass is bewitching me bad." The male's voice broke into Celina's thoughts as she was walking back to her sister and friend. The bar was crowded for a Monday but that had a lot to do with the summer month of July. Everyone was trying to party as much as they could before the cold weather returned.
"That was awful." Celina chuckled as she turned to the male trying to pick her up. He would have no clue she was a witch unless he was a wolf. Her breath stopped in her lungs as she took in his sharp features, stubble dusted jaw, and dark hair.
"It was. Sorry, I normally have a good wing man but he had to go back home." He shrugged.
"Why wouldn't he come out on a night like this?" The spring air held a crisp side to it from all the rain in the last few days.
"He had responsibilities to take care of." He pushed his fingers through his dark brown hair.
"I see. Well, wolf, are you going to touch me or keep staring like an idiot?" Celina rose an eyebrow.
"What's your name?" His eyes captured her attention, making her body tingle.
McKayla loves to write books about sexy werewolves.
Now a USA Today Bestselling Author!
She's a stay at home mom of two in the state of Wyoming. Born in California, she misses the hot weather all of the time. Her goal- to write as many sexy books as possible. However, being a mom of two little ones can take time but she is pushing to finish her work to get more books out for her lovely fans.
Ever since she was little she wanted to be a writer but doubters said that it would be impossible to make money at it. She is pushing herself hard to show them they are wrong.
She would like to remind everyone to review what you read, it's important!
Follow the tour HERE for exclusive content and a giveaway!
Publisher: Next Chapter Pub
In a kingdom in turmoil, people only care for riches and power. As a war breaks out between countries, a godly power is awakening.
Two boys train at the Academy to become Knights of Valor. Best friends, one is filled with light while the other leans towards darkness.
They both have the power to change the world - or destroy it - in their battle for what they believe is right.
This was one of my favorite scenes to write. Began the book off with a bang.
Alistair pulled off his helmet, his long blonde hair fell down his back. His blue eyes were filled with rage, aimed at Ballard. "If you do not move out of my way, I will be forced to move you," Alistair hissed, this time his hand on the hilt of his sword.
Ballard slyly grinned, "So you would be willing to do battle within these walls?"
"If it means getting to see the King, then yes," Alistair replied, standing tall and unwavering.
Ballard unsheathed his blade, "If you refuse to back down, then have at thee." His determination was just as unwavering as Alistair's.
Alistair felt as though his hand had been forced, and he too unsheathed his blade. The two men were now set to do battle. Ballard was the first to strike with his blade, but Alistair parried the attack, "Not bad, Chamberlain. But now it is my turn," he said, then lunged at Ballard.
Ballard knocked the blade away without even trying, "Not bad yourself Knight, but you will have to do better than that if you want to best me," he sheepishly grinned.
The sound of steel clashing against steel could be heard all throughout the castle as the two men fought each other. Hearing the sounds echoing through out must have drawn the ire of King Edward, for he stormed out of the throne room, and unbeknownst to the two men he used his blade "Kings Defender" to knock Alistair and Ballard's swords from their hands, sending them both to the floor without trouble. "What is the meaning of this? Fighting inside my castle walls is forbidden."
The King was infuriated with the both of them. "Tell me. Why would my first Knight and most trusted adviser be in my halls fighting like two fools," he shouted at them both. "I want answers, or so help me I will have both of you locked up in the dungeon for months." Instead of answering King Edward. Ballard made a big mistake by reaching for his sword and King Edward took notice by stepping on the blade, keeping the sword just out of reach, "Reach for your blade one more time Chamberlain, trusted or not I will cut off your hand," the King yelled. "Now which of you are going to give me the answer I seek?"
Alistair on one knee placed his arm across his chest and bowed before he spoke, "Your majesty. I have urgent news for you, but before I could deliver. The Chamberlain here refused to let me have an audience, and this is urgent and I did what I felt was right. Even if it meant fighting inside these walls. I do apologize, I should have thought this through."
Edward then looked over at Ballard, "Is this true, Chamberlain?"
"It is my Lord," Ballard answered.
King Edward's anger was solely upon his Chamberlain now, "Why would you stop my First Knight from coming to see me? You know it is important whenever he rushes in like this."
"My Lord, you've been ill lately and do not need the stress. I was only thinking of you your majesty," explained Ballard
"You had no right," the King responded. "As long as I am the King of Drasal, and have the aid of my blade, I refuse to be treated like an old frail man. I shall always be here for my knights and my people. Get out of my sight, Ballard!"
"But your majesty-" the Chamberlain tried to speak but the King would have none of it.
"I said to get out of my sight," King Edward shouted again.
The Chamberlain stood up and asked if he could have his sword back, of course, the King was not a heartless man and allowed him to take back his blade. But Ballard did not go far, instead, he hid out of sight and listened in on what King Edward and Alistair had to say to one another.
"Go on Lord Alistair, tell of this news you speak of," the King said, now in a much calmer state, but still as serious as ever.
Alistair sheathed his sword and picked up his helmet. "The Dark Knights have returned and are on the move, your majesty."
Edward's face had now changed to a look of despair, "What? The Dark Knights have returned? You must be mistaken, Knight. That evil was laid to rest a lifetime ago."
"Yes, I remember my Lord. I was just a kid when you vanquished that evil with the King's Defender, and a handful of knights to aid you. But believe in my words, I have seen them with my own eyes. They have returned and are not far from here, my Lord," said Alistair.
King Edward held tightly onto the hilt of his blade, "If that is the case, then I shall ride out with you and vanquish that evil once more."
"King Edward, you musn't. You are ill! And who knows what could happen out there. Your people need you now more than ever. If you would, please allow me to take some more men and go out to scout, and see what they are up to that is. At least allow me that before you get involved, my King. Please. I beg of you," Alistair pleaded.
Edward was reluctant but agreed to do as Alistair had wished, "Okay, Alistair. I will do as you wish and allow you to take a few extra men out with you, under one condition."
"Of course." He bowed. "Name your condition."
"You take only a few men, and some from the Academy as well. And under no circumstances do you engage the Dark Knights. Understood," King Edward explained.
"I understand your majesty. I shall do as you ask," replied Alistair.
"Then go now Knight Of Valor, and assemble your team. I shall be awaiting your return, may the gods watch over you," King Edward said.
Alistair crossed his arm over his chest and bowed to the King, "I shall take my leave now, your majesty. And thank you for placing your trust in me once more."
King Edward stood there for a moment, mumbling a few words under his breath before turning and walking back into the throne room. However, there lurking in the shadows was the King's Chamberlain, and he heard every word that was said. "So the Dark Knights have returned from the ashes, that must mean "the dark powers" are up for grabs again. And all the mythical blades powers must have been resurrected as well. Which would explain why the King took us down so easily while being so frail.
"This could be good for me," Ballard whispered, before disappearing back into the shadows.
About the Author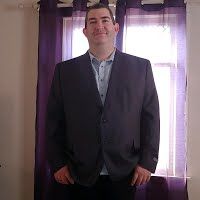 I am the author of Albert: Killer In The Woods and many more. I love to write horror novels and short stories as well. I live in Powell Wyoming with my fiancee and two kids.
Publisher: Peacock Proud Press
Every day you're driven nuts by the people around you making common sense errors and irrational decisions. Imagine what life would look like if you didn't have to waste time and energy dealing with stubborn, clueless, argumentative, defensive, or apathetic coworkers! Thank goodness Eric Bailey translates decades of brain science research into every-day language, helping you break through common communication barriers that will improve every relationship in your life. Whether you work in the executive suite or on the front-line, this book will teach you how to cure the stupidity all around you.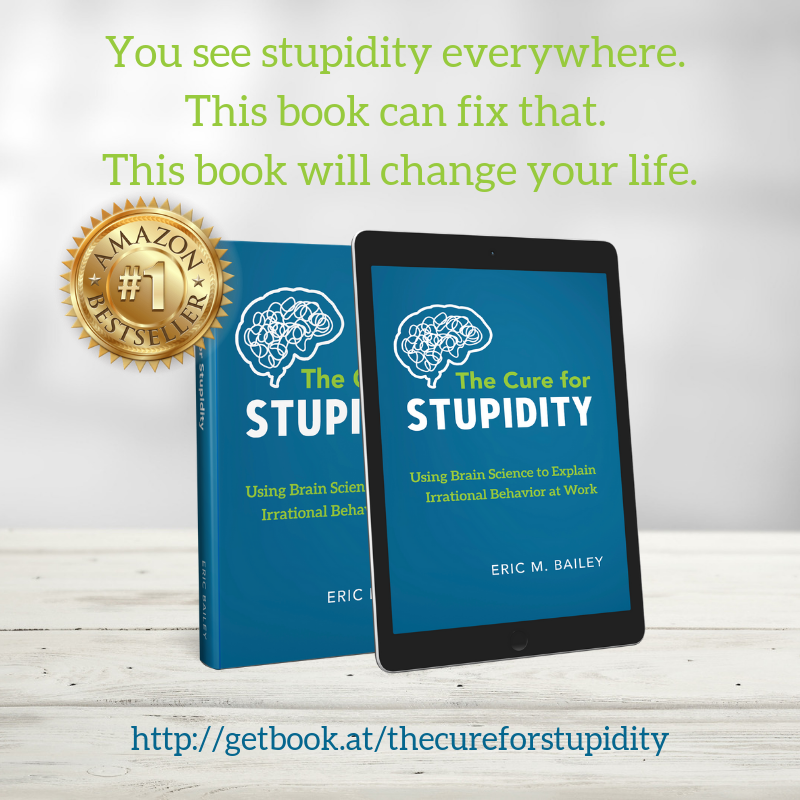 About the Author
Eric M. Bailey is the President of Bailey Strategic Innovation Group, one of the fastest-growing communication consulting firms in the United States. Eric has a diverse set of experiences that includes helping an NFL player pet a rhinoceros, doing barrel rolls in an F-16, and chatting with LL Cool J on the campus of Harvard University.
Eric's unique style blends fact and emotion and finds ways to appeal to analytical thinkers, emotional feelers, and everyone in between. Eric has been featured on Huffington Post, Forbes, the Like a Real Boss Podcast and has helped leaders and teams across North America see common problems from new and different perspectives. Eric works with Google Inc., the US Air Force, Los Angeles County, Phoenix PD and many more.
Eric holds a Master's Degree in Leadership and Organizational Development from Saint Louis University and is a lifetime learner of human and organizational behavior. When not working or researching, you can find Eric and his wife, Jamie racing on their road bikes, being cheered on by their three children.
a Rafflecopter giveaway
Tuesday, 17 September 2019
Courting Darkness
Genre: Urban Fantasy, Paranormal Romance
"A great story of murder, mystery . . . and well-developed characters."—Margie Hager, Netgalley Reviewer on A Drop of Magic
"A Drop of Magic is a damned fun and original read, with sass, action, hot men, and a whole lot of magic." —Diana Pharaoh Francis, author of the Diamond City Magic, Magicfall, and Horngate Witches series
Deeper into the shadows. . .
The paranatural community isn't done with Alex. She's been summoned to the fae court, and she's got her hands full trying to prepare. But her date with the fae will have to wait. There's been a death at the gallery, and the man she hoped would be a part of her future is the prime suspect.
Bitter enemies pull her into the middle of a paranatural war for territory that has her dodging police, swords, teeth, and claws—not to mention the truth. The deeper she digs, the more secrets she uncovers, and the less certain she is about the innocence of the one man she wanted to trust.
She thought she was done with murder and monsters, but she'll have to enter the belly of the beast if she hopes to save her friend.
/div>
Amazon * Apple * B&N * Google * Kobo
MY BREATH PUFFED out in angry little clouds as I shivered under the star-streaked sky that stretched above my patch of frozen mountain. Jaw clenched, I shoved a key into the lock on my front door with enough force to jerk the purse off my shoulder. It slid down, snagging at my elbow, and the shift in weight jostled the dome-covered cake balanced in my other hand.
I couldn't believe James had stood me up again. After all his promises. Twenty minutes standing outside his house. Then a quick call about unavoidable business at the gallery. Sure he'd apologized, given me his
usual line about making it up to me "another time." But another time never seemed to come for James and me.
I twisted the keys. Those not in the lock dug into my palm.
Another time. If he said those words again, I was going to run him over with my Jeep.
The door stuck, swollen by moisture. I growled and pushed harder, hissing when my weight settled onto the freshly re-knit muscles of my right leg. I gave the door another shove, and it finally gave way, slamming
into the adjoining wall with a bang, my keys still dangling from the lock.
I froze in the doorway. My living room was occupied.
I'd been looking forward to curling up with my cake and my anger. Habits formed through years of solitude were hard to break, and I still wasn't used to having roommates. Company was going to put a serious crimp in my plans.
Kai and Chase were sitting across from each other on my faded furniture, cards and poker chips on the coffee table between them. Neither seemed surprised by my dramatic entrance.
"You're home early." Kai glanced in my direction, and his eyes were swirling galaxies of color rather than the deep brown of his glamour—the human disguise he wore less and less these days. He was a fae knight from the Realm of Enchantment who'd been living in my guest room for about a month, most of which was spent saving the world from a murderer with a magic, world-eating box. He cradled a hand of cards to his chest so his opponent couldn't cheat. "Didn't think we'd see you till much later."
"Or tomorrow," added Chase without looking up.
I'd let Chase into my home when I thought he was just a cat, before I knew he was actually a fae who could change form at will. I let him stay because he saved my life. Of course, when I made that deal, the understanding was that he'd remain the gray tabby I'd taken in last summer, but he'd been spending more time with fingers than fur lately.
"Call." He dumped a handful of colorful plastic chips onto the pile already on the table.
"Yeah well . . ." I pulled my key out of the door and kicked it closed behind me. "Plans change."
Chase glanced up and raised a silver eyebrow over one luminous green eye. "You've replaced James with a cake?"
The plastic dome I hugged gave a clear view of the decadent chocolate cake I'd picked up on my way home.
"This is my consolation prize." I lifted my chin and carried the calorie-laden confection to the high counter that separated the kitchen from the living room. "Don't judge me."
"Let me guess." Chase tossed his long silver braid behind his shoulder, making his pointed, slightly furry ears twitch. "Something came up."
"Again," Kai added. He spread his cards on the table. "Two pair."
"Full house," Chase said with a grin. He scooped up his winnings.
Kai looked over at me. "It's important to know when to fold."
I'd been thinking the same thing all the long drive home. I'd done my best with James. I'd really put myself out there. But after all the excuses, and conflicting schedules, and missed dates. . . . I'd been down this road enough to know where it ended. I'd had my fill of waiting for men who never showed up. Still, I wasn't about to give Kai the satisfaction of an "I told you so."
I crossed my arms and dropped onto the couch next to Kai. "That little tip just lost you a piece of cake."
His smile went slack. Kai had the biggest sweet tooth I'd ever seen.
"You'll get fat if you eat it all on your own."
I gestured to Chase, who was stacking his winnings into neat little piles. "Chase can help me."
Chase shook his head. "Cats don't eat chocolate."
"They don't normally eat pizza either, but that's never stopped you." I "accidentally" nudged the coffee table with my knee, sending Chase's carefully stacked poker chips cascading across the surface.
"Hey! Don't get pissy at me just because your old stiff couldn't follow through."
"James is not an old stiff," I said. "He's refined. Something you wouldn't understand."
He snorted. "Whatever you say."
I turned to Kai. "Back me up here."
"Will it earn me some cake?"
"Ha," roared Chase. "Spineless elf."
"Mangy stray," Kai shot back.
Chase took a bow and began to melt, shrinking and shifting until a gray tabby sat on the faded beige cushion of Chase's chair.
Sighing, I lifted a blue poker chip and rolled it over my knuckles.
"What were you betting?"
Kai tipped his head to one side and frowned. "Little bits of colored plastic, obviously."
I rolled my eyes and tossed the chip back on the pile. "The chips are usually backed by money, but I guess you and Chase aren't exactly rolling in human cash."
"Actually, I received my first paycheck last week."
When Kai made the decision to stick around the mortal realm to instruct me in all things fae, he also started working part-time at a convenience store owned by a registered halfer who owed him a favor.
The job was dull, but necessary to get a work visa from the PTF—the Paranatural Task Force that policed interactions between humans and fae—which was the only way a full-blooded fae could legally stay in the
human realm.
"Congratulations."
"I've been thinking about what to do with it, though I hadn't considered rolling in it. I believe humans have a custom of paying a portion of the expense of shared living space, so I thought I might do that."
"You mean rent?"
He thrust a finger at me. "Exactly. What do I owe you?"
I lifted one shoulder. "On the house."
"Yes. What do I owe on the house?"
I rolled my eyes. "It means forget about it. I don't need your money."
"Are we not roommates?"
"Sure, but it's not like this is a permanent arrangement. We haven't even talked about what happens after my trip to court." My breath hitched, as it often did when anyone mentioned my summons to the fae
Court of Enchantment. Kai had convinced the powers-that-be— namely my long-lost great-grandfather—that I wasn't ready, hence his new job as my personal tutor. But we had no idea how long the arrangement
would last. Maybe I'd never be ready for life among the fae.
He frowned. "I still feel I should contribute."
"How about groceries? Between you and Chase, the fridge is almost always empty."
"Deal." He thrust out his hand, and I shook it, trying not to laugh at his triumphant expression.
Chase, who'd been watching our exchange, perked up at the word "groceries." Once the deal was struck, he sprang into my lap and nuzzled his head against my chin.
Without thinking, I stroked his back and scratched around his ears.
"You know that's still Chase, right?" Kai watched us with a mixture of amusement and frustration. "You shouldn't treat him differently just because he looks like a cat."
I shrugged. "I can't help it."
Kai made a disgusted noise and scooped the cat out of my lap, dropping him unceremoniously to the floor. Chase gave an indignant hiss and sauntered off.
"If you can't even deal with that riffraff, how do you expect to get by at court?"
I nibbled a piece of loose cuticle and hunched deeper into the sagging couch cushion, wishing for the
millionth time that life could go back to the way it was before Kai showed up at my door. Back when I
thought I was human.
Most halfers—fae-human hybrids—returned to their regular lives after registering with the PTF, but that wasn't an option for me. Unlike the vast majority of fae offspring, I wasn't allergic to metal. Hell, it was
how I made my living. And according to Kai, there was only one bloodline capable of producing fae that could handle iron. That was why Kai was still there, why I had to take faerie protocol lessons, and why
Uncle Sol, the man who'd raised me since a car crash killed my mom, was doing his best to keep my name off the PTF registry.
I rubbed the intricate tattoo that wound its way up my right arm.
Learning I was the by-blow of a fae-human love affair untold generations ago had been a hard pill to swallow. Finding out I was royal had been a kick in the head.
"I still don't see why I have to go. Your mission was a success, the killer was brought to justice, and gramps got back his magic death-box.
Why can't we just leave it at that and all go our merry ways?"
Kai pinched the bridge of his nose. "We've gone over this. There is no going back. The gift my lord gave you to boost your powers also marked you as his blood-kin. There's no hiding who you are now."
"I could hide just fine if I stayed here," I argued. "But parading around a fae court with the Lord of Enchantment is going to make me pretty damn conspicuous."
There was a time I would have been happy to have a long-lost relative come and claim me, as any orphan would, but I held no delusion that he'd found me out of kinship or caring. I was one of only three
living imbuers—a rare gift. No fae would pass up his claim to an imbuer, regardless of how tenuous the connection or how weak the blood of the halfer.
Kai rolled his eyes—an expression I was pretty sure he'd picked up from me. "You're a member of the court now, like it or not. If you don't go to them they will eventually come to you, and I guarantee you would not enjoy that experience. In either case, learning our customs and traditions is the best way to protect yourself. Besides, there's no one in this world or any other who can instruct you in the art of imbuing as well as my lord."
I crossed my arms, frowning. "My abilities are fine the way they are."
Truth be told, there was a lot I still had to learn about my powers, and magic in general, but that was the one subject Kai had steadfastly refused to cover. Mostly our sessions consisted of mind-numbing etiquette
and history lessons, although he'd recently begun teaching me how to fight with a sword.
"It's important for you to understand how the fae world works before you take your place in it. To that end . . ." He picked up an old leather-bound book from a pile on the floor and held it out. "A little light
reading before bed."
"Haven't I suffered enough tonight?"
"It's the chronicle of your family tree. I thought you might be interested to see where you came from."
"I know where I come from," I snapped, but I took the proffered tome just the same.
"You know less about yourself than anyone I've ever met."
"What's that supposed to mean?"
"Never mind." He waved his hand as if wiping the words away.
"I'm turning in. I have an early shift at the store tomorrow."
"How's that going, by the way?"
He shrugged. "I play tricks on the customers to entertain myself when it's slow."
My jaw dropped. "If someone reports you, your visa will be revoked.
You'll be deported back to the reservation."
"Don't worry." He grinned. "Humans haven't got a clue."
I scowled. "Don't say I didn't warn you."
A Drop of Magic
The war isn't over . . .
With the world clinging to a fragile peace forced on the Fae by humanity after the Faerie Wars, metalsmith Alex Blackwood is plunged into the world of the half-fae who traffick in illegal magical artifacts. Her best friend's murder and his cryptic last message place her in the crosshairs of a scheme to reignite the decade-old war between humans and fae.
Worse, violent attacks against her and the arrival of a fae knight on a mission force Alex to face a devastating revelation of who and what she is. To catch a killer, retrieve a dangerous artifact, and stop a war, Alex will have to accept that she's an unregistered fae "halfer" with a unique magical talent—a talent that would change everything she believes about her past, her art, and her future.
Her world is crumbling around her, and Alex will have to decide who to trust if she and the world are going to survive.
"A Drop of Magic is a damned fun and original read, with sass, action, hot men, and a whole lot of magic." —Diana Pharaoh Francis, author of the Diamond City Magic, Magicfall, and Horngate Witches series
Amazon * Apple * B&N * Google * Kobo
METAL DUST CLUNG to the sweat on my arms, glittering like shining scales. Even with the studio door propped open behind me, the uncommonly warm October air did little to temper the heat of the forge. A shower of sparks erupted as I plunged the carbon steel rod back into the annealing embers and dragged an arm across my forehead, taking care to avoid the bulky, blackened welding glove. I'd probably still end up with sooty streaks decorating my otherwise pale face. I always did.
Lost in the beat of my old MP3 player, I started belting out the lyrics of Robert DeLong's Don't Wait Up as I prepared the next rod. Then a touch settled—light and tentative—on my arm, and the bottom fell out of my stomach.
Tongs clutched in one hand, hammer in the other, I spun.
"Whoa, whoa." His lips formed the words, though I couldn't hear them over the music blaring through my headphones.
An inch shorter than I was, wearing jeans and a polo shirt, I had no reason to think the man was anything but human. But then, who could tell these days? He took a step back, hands raised, either to show he meant no harm or to ward off the blow he thought was coming.
Behind him, near the open door, stood a second man. He wore a rumpled brown suit that matched his hair and eyes. Average height, average build, average looks. Nothing remarkable about him.
Moving to put the anvil between us, I set the hammer down and pulled off my headphones, but kept a white-knuckled grip on the tongs. The higher-than-average number of violent crimes this summer had me on edge—along with everyone else—though none of the violence had come so far as my neck of the woods. It seemed unlikely a murderer would get my attention before attacking, but my heart raced a mile a minute as I faced the strangers. "Who are you?"
The man nearest me lowered his arms. "We announced ourselves, but it seems you didn't hear."
I scowled at his attempt to put the blame back on me. This was my studio, and they were uninvited guests.
"My apologies." This came from Mr. Unremarkable. The monotone of his voice matched his appearance, revealing nothing. "You may call me Smith. My associate is Neil. Am I addressing Alyssandra Blackwood?"
A muscle under my right eye twitched. Most people only knew me as Alex. Alyssandra hadn't existed anywhere but legal documents since I was twelve and traded the name in for something stronger, more
practical.
"We've come to purchase an item from you, an engraved silver box."
My shoulders dropped as the tension in them eased a little. Customers didn't often stop by the studio unannounced, but it wasn't unheard of. People sometimes got my address from the Souled Art Gallery
in Boulder where I showed my work, or from previous customers, and came to commission pieces. Most were courteous enough to call ahead.
"I'm booked on orders right now. I could maybe get to it next month."
"You misunderstand. We are looking for an object already in your possession."
"Oh. Well, sorry to disappoint, but I don't have an item like that in stock."
"We know the box came your way. If you hand it over, we can make it worth your while." Neil had the slick, sleazy tone of a used car salesman. Curious though I was about this box, and why they thought I had it, I'd had enough of the conversation. Even if they weren't killers, they gave me the creeps. I shook my head. "You were misinformed."
"Ms. Blackwood," Smith said. "Be reasonable. We're willing to pay handsomely, and considering the other parties involved, you're not likely to get a better offer. Surely it isn't worth the risk?"
My breath caught as the thinly veiled threat hit me like a punch in the gut.
"You need to leave, now." My voice trembled slightly. The studio only had one door, and they were between it and me. I was trapped. Shifting my stance, I tightened my grip on the tongs, willing them not to shake.
Smith raised his hands in a placating manner. "I think we've gotten off on the wrong foot. You might not even realize you have the item we seek. It would look quite common, like a jewelry box."
"I told you, I haven't got anything like that. Now get out of here before I call the cops." It was a bluff,
of course, I'd left my cell phone in the house. Even if I could call, the police would never arrive in time to help. That was the downside of living so far from town. I was on my own.
"Enough of this." Neil stepped around the anvil and reached for my arm.
Time slowed.
I didn't like to fight, I avoided confrontations when I could, but if he thought I was going to roll over, he was wrong. With a guttural howl, I twisted my wrist out of Neil's grip and swung the tongs into his face. His skin split apart like newspaper peeling back from a fire, scorched black and crinkled around the edges. An unearthly shriek filled the studio, and I stumbled back, shocked at the damage I'd done.
Neil shimmered and seemed to melt. His skin became transparent, and a network of blue veins crawled beneath its surface. His nose spread and sank into his face, leaving two flared slits. Below that, the mouth emitting that horrible sound elongated until the gaping, needle-lined hole grew so large I could have put my whole fist in without scraping my knuckles. When he reached up to cover his face, his fingers had nearly doubled in length, the webbing between them connecting all the way to the tips. His fingernails stretched and thickened to claws. The creature before me was straight out of a horror movie, and I added my own scream to the cacophony.
Wielding my tongs like a baseball bat, I backed away from the writhing shape which had been the man Neil seconds before. Even at the best of times, my stomach cramped when someone mentioned the
fae. Seeing one in the flesh was like having a bucket of ice water dumped on my head. I shivered from head to toe, and fought the urge to throw up.
Smith crossed the space between himself and Neil in two steps and pulled Neil's arms down to expose the hideous gash burned across his cheek. My stomach lurched at what I'd done. White glinted where bone showed beneath charred flesh. The eye above had swelled shut and was rapidly turning a sickly greenish color. Smith placed one palm against Neil's forehead, and the horrible wail abruptly cut off as Neil sagged in Smith's arms.
"It seems we were mistaken." Smith spoke as he had before, without inflection or emotion. Nothing to show surprise or concern that he was holding an unconscious, injured faerie in his arms. "Good day, Ms. Blackwood."
My mind went blank as I fumbled for words.
Smith took my stupefied silence in stride. Hefting Neil without visible effort, he gave a small parting nod and carried his companion out of the studio.
I remained where I was until the sound of car doors closing and the crunch of gravel told me I was alone. Then, still clutching my tongs, I inched to the door and took a deep breath of the outside air. The
driveway was empty, no cars in sight. No faerie goons either. My knees gave out under the weight of the panic I'd been keeping in check, and I sank to the ground, tongs still clutched in my shaking hands. The tea I'd had for breakfast felt like acid in my stomach, threatening to come back up.
A gray tabby with yellow-green eyes peeked around the corner of the shed with a questioning, "Meow?" Cat had appeared on my doorstep a few months back, begging for scraps, and I'd made the mistake of giving him some. He'd come around every day since. Despite the fact he'd already stuck around longer than most of the guys in my life, I'd steadfastly refused to name him.
"Fat lot of good you were."
Lifting his nose, Cat swished his tail and stalked away.
It was silly to take my anxiety out on Cat, but it was easier than dealing with the panic and adrenaline threatening to overwhelm me. Anything to distract from the flesh seared to the tongs in my shaking
hands.
I couldn't imagine forging more, so with a wary eye on the door I dampened the coals and stored my tools, each in its marked place on my pegboard. The gooey tongs went on a shelf, I'd throw them in an acid bath later.
Born and raised in Colorado, L. R. BRADEN makes her home in the foothills of the Rocky Mountains with her wonderful husband, precocious daughter, and psychotic cat. With degrees in both English literature and metalsmithing, she splits her time between writing and art.
Follow the tour HERE for exclusive excerpts, guest posts and a giveaway!