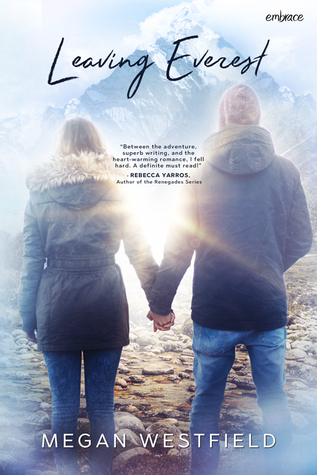 Leaving Everest
Review:

♥

♥

♥ ♥

❣
Emily has experienced life many only dream of. She has the survival skills to tackle the largest mountains and the determination to match. Her father wants her to get a good education and Emily has already taken a gap year. One more trip and she is going to break the news to him. She wants to work the mountains and leave America in the past.

Luke is her best friend and she has always had a crush on him. He is gaining his education and spends his free time visiting beautiful places. They constantly communicate via pictures but Emily knows little about his reality. She doesn't even know if he has a girlfriend.

As the start of the educational year approaches Emily is forced to see the bigger picture, but that doesn't mean she will accept her fate. The mountains are her home and she wants to live her dream. Unfortunately, her dreams are expensive and there are others to consider. Emily thinks of America as the life she left behind. It brings up bad memories relating to her mother.

Leaving Everest is a becoming of age novel. The storyline is really interesting and Emily has a unique life. She has a lot of love around her and she is determined to make her dreams come true, but she needs to be realistic. Finding a place in the world comes with compromise.

Emily and Luke are a perfect duo. There love is complicated and the ride is hard. Can they make their lives fit together or do they only have Everest?

This book has so much to offer and I really liked the geographical setting. 4.5 stars out of 5. This was a unique gem.

*I received an ARC via Netgalley in exchange for an honest review. Adventure romance with more than meets the eye. If you are looking for something different this book hit the nail on the head.
Expected publication: February 19th 2018 by Entangled Publishing, LLC (Embrace)