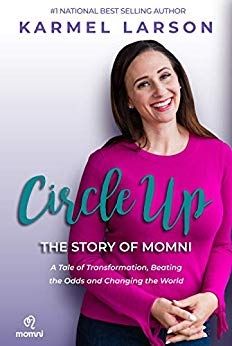 A Tale of Transformation, Beating the Odds and Changing the World, the Story of Momni
Date Published: October 8th 2019
Publisher: Elite Online Publishing
Circle Up is a raw glimpse into the heart, mind, struggle, and triumph of a female tech entrepreneur whose relentless grit, determination, and courage to continue, despite unimaginable obstacles, will leave you pondering your own life purpose and path.
Against all odds, this passionate mother of eight is succeeding in launching a sharing economy global tech company, linking mothers together everywhere to help solve the global childcare crisis. With more women joining the workforce and less stay-at-home parents, the need for childcare is in even higher demand. This crisis calls for a movement that encourages mothers to share resources and help each other succeed.
In sharing her spiritually guided journey, Karmel invites the reader to join the Momni Movement of caresharing and encourages mothers everywhere to gather and Circle Up!
● Battle the childcare crisis through mentorship and caresharing
● Overcome barriers of motherhood and stay motivated
● Find inspiration by this entrepreneurship journey that defies the odds
● Develop purpose through motherhood, faith, and personal growth
● Join a movement that changes childcare for both parents and children
About the Author
Karmel Larson is a serial millionaire entrepreneur shattering barriers as founder of Momni and the Momni Foundation. A professionally trained social worker, she is passionate about empowering women and strengthening families. Featured on Dr. Phil (Tuesday's with Troy), ABC, NBC, FOX, The CW, Yahoo Finance, and Fortune. Karmel is a captivating, keynote speaker who inspires action. She presented at the UN on the global childcare crisis and was awarded the "Women of Distinction Award" by The India Council of Human Rights. Internationally known as "Mama Karmel", she considers her greatest life work-her magnum opus, to be her 8 children.