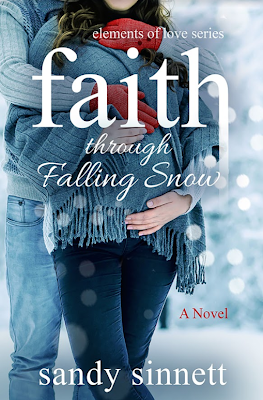 Publisher: 5 PRINCE PUBLISHING
With Laci and Mitch anxiously awaiting the arrival of a new baby, they are surrounded by the turmoil of discovering Mama's illness while their two sons fight over the love of a woman.
A white Christmas brings a moment of joy, but Laci's faith is tested again when their baby clings to life.
Together the Young family must lean on each other and the only One who can truly give them strength.
Will they find the faith they need…even through the snow?
At first, she thought she was just seeing things. Another appeared, and then another. Laci looked up and smiled, then closed her eyes and tilted her head back so she could catch them in her mouth as they fell. She felt like a little kid and wanted to spin around but knew her body wasn't really up for that. The flakes grew larger, falling faster and faster and her face was now wet from the melted snow. When she opened her eyes however, the few soft snowflakes had turned into flurries, a veritable snowstorm in a few short minutes. She gasped with delight. "Let it snow!" She yelled with joy, holding out her hands and walking around in circles. It reminded her of a day, not long ago, when she had danced in the rain and asked God to heal her cancer.
"It's snowing!" Travis yelled, running to the window. "Can I go outside with mom?" He asked.
Mitch raised his eyebrow. "What are you talking abou—?"
Mitch turned to the window and saw Laci standing in the snow.
"What in the world is that woman doing?"
Immediately, he tore out the back door.
"Laci Jean!" He shouted as he ran down the deck stairs toward her.
"It's snowing, Mitch! It's really snowing!" She shouted with excitement and turned toward him, but as she did her foot slipped on the snow-covered grass. Her legs gave way.
About the Author
Sandy lives in her hometown of Mt. Vernon, IL enjoying life with her two youngest kids, and works full time for a local hospital as a health consultant. Most mornings she can be found at her local bookstore-coffee shop among friends, looking for inspiration and writing her next novel.
a Rafflecopter giveaway