Don't Miss the Excerpt Reveal from True Storm by L.E. Sterling, which releases on May 1, 2018!
His hands still on my face. "I'm sorry," I manage to say, trying to control a nervous need to giggle like a hyena. "Are we fighting? Maybe I didn't notice because it's all we ever seem to do." A wicked grin lights his features. "That's not all we seem to do," he whispers, seconds before he replaces his thumb with his lips. It's a soft kiss at first, tentative. Like someone asking your name. But it lights me up, sending fire shooting through my body, heat curling through my belly. I must sigh because Jared pulls back for just a moment, a question in his eyes and hunger written all over him. Then he claims my lips again, holding my face in his hands as the earth spins away from me.
Enter the Giveaway!
a Rafflecopter giveaway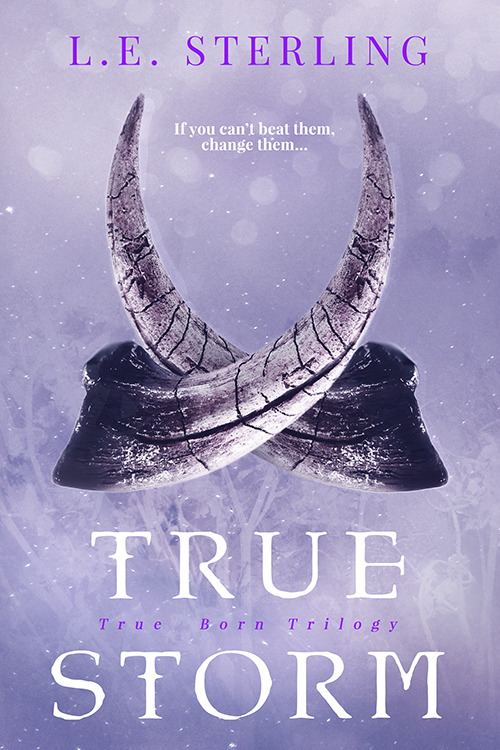 About True Storm:
Lucy's twin sister, Margot, may be safely back with her—but all is not well in Plague-ravaged Dominion City. The Watchers have come out of hiding, spreading chaos and death throughout the city, and suddenly Lucy finds herself under pressure to choose her future: does it lie with her handsome new friend, Alastair; her guardian, the enigmatic True Born leader Nolan Storm; or the man who makes her heart trip, her savage True Born bodyguard Jared Price?

But while Lucy ponders her path, fate has other plans. Betrayal is a cruel lesson, and the Fox sisters can hardly believe who is behind the plot against them. To survive this deadly game of politics, Lucy is forced to agree to a marriage of convenience. But is the DNA of her will stronger than the forces opposing her? And can she turn the tide against the oncoming storm? As they say in Dominion, rogue genes can never have a happy ending...
Want to read more? Pre-order your copy of True Storm (True Born Trilogy, #3) by L.E. Sterling today!
About L.E. Sterling:
L.E. Sterling had an early obsession with sci-fi, fantasy and romance to which she remained faithful even through an M.A. in Creative Writing and a PhD in English Literature – where she completed a thesis on magical representation. She is the author of two previous novels, the cult hit Y/A novel The Originals (under pen name L.E. Vollick), dubbed "the Catcher in the Rye of a new generation" by one reviewer, and the urban fantasy Pluto's Gate. Originally hailing from Parry Sound, Ontario, L.E. spent most of her summers roaming across Canada in a van with her father, a hippie musician, her brothers and an occasional stray mutt – inspiring her writing career. She currently lives in Toronto, Ontario.